Vision and Values
Our Vision and Values 
"Let your light shine!" (Matthew 5:16)
As children of God, our pupils will share their achievements in fellowship with the whole school community, in a loving and respectful environment. Together, all children and adults will show thankfulness for our world, and use our faith to challenge ourselves to fulfil our God-given potential. Our motto, 'Let Your Light Shine', shows how our talents and potential can be illuminated through the example of Jesus' love, and how Jesus' attitude can shine through our actions and words.
Our core values: Love, respect, faith, fellowship and thankfulness.
Our mission is to:
· Offer a happy, enjoyable learning experience to our children, by ensuring that their interests are at the heart of everything we do.
· Provide pupils with an innovative, broad and balanced curriculum which prepares children to play their own important part in life in our diverse society.
· Create a loving, respectful atmosphere for learning, whilst providing high quality, enthusiastic teaching, to inspire children and enable them to flourish, reaching their God-given potential and letting their light shine.
· Nurture all members of our school community, and value them as individuals.
· Work as a Christian fellowship with families, the church and the wider community to encourage collaboration and conversation with others as well as respect for each other, and to celebrate the rural nature of our school.
· Support the mental health, spiritual development and well-being of all children and adults, through reflection, self-discovery and creativity.
· Empower members of the school community to develop endurance and resilience so that they are courageous, and are able to embrace the challenges of life through faith in God, themselves and others.
· Through daily worship and Jesus' key message of 'love others as yourself', enable pupils and adults to demonstrate their love for each other, themselves and the world around them and to show their thankfulness to God.
The Marches Academy Trust Vision and Values
The Marches Academy Trust core values:
Excellence – striving always for mastery and personal success
Integrity – consistently acting with honesty, compassion and respect
Empathy – embracing and supporting the uniqueness of every individual
Creativity – inspiring and challenging through invention, experimentation and exploration
Equality – ensuring fair opportunity for all
Lower Heath CE Primary School aims to:
Provide each individual child with an attractive, stimulating, caring, learning environment, where all members of it's community are valued.
Promote high standards of behaviour.
Continually raise the standards of all pupils' work
Place the education of the whole child at the centre of our school ethos.
Recognise each child as an individual. Activities are planned to address their specific needs.
Enable all children to achieve their full potential through the broad, balanced and challenging curriculum.
With an aesthetic awareness within a happy and secure environment, we will offer our pupils opportunities to grow:
intellectually,
morally,
spiritually,
physically
and emotionally.
Our aims can only be achieved by increasing the confidence, trust, tolerance and care between all members of the school community. Through your support and co-operation, positive attitudes towards school and learning will be attained and developed by all pupils during their time at Lower Heath CE Primary School. The school provides a range of experiences to enhance the children's learning, including inviting visitors into school and school trips.
Our work with the community.
At Lower Heath, we are very proud of our links with the local community. The children take part in many community events throughout the year. Whether maypole dancing at Fauls Summer fête, playing handbells at community concerts, making banners for the Holy Immanuel Church flower festival or performing drama at Pentecost events, our children are always delighted to be involved in community events.
We enjoy very close links with Holy Immanuel Church, Fauls; members of the congregation and the Parochial Church Council take on many voluntary roles within school, and at school events. A highlight of the school year is the harvest tea provided by the PCC for the children after the harvest service!
At Christmas, our children host a Christmas party for local senior citizens. They perform songs, play instruments, serve tea, coffee and tasty treats that they have cooked. This is a very popular event, so please feel free to come along and join us – keep an eye on our calendar on this website for the date this year!
Each year, we host an Open Day where anyone from the local community can come and have a look around the school. There is always lots to do, including pre-school play activities, maypole dancing, handbell ringing, displays of children's artwork, tours of the school, refreshments and much, much more. Again, please keep an eye on the calendar for this year's date.
The school hosts a range of social events which are open to the local community. These include bingo evenings, band nights, pantomimes and talent shows, amongst others. We also extend an invitation to the local community to join us for Christmas, Easter and harvest services at Holy Immanuel Church, Fauls. Details of upcoming events are included on the calendar on this website.
We are always delighted to welcome visitors from the local community into school – previous visitors have enjoyed telling children about their experiences in the Second World War or the opening ceremony of the London Olympics, helping children with work in class, running clubs after school for the children, joining in with World Book day – the list is endless! Members of the local community also help us by making props, costumes, designing lighting and operating sound equipment for school productions. If you would like to help us in school in these, or any other way, please get in touch with us – we'd be delighted to hear from you!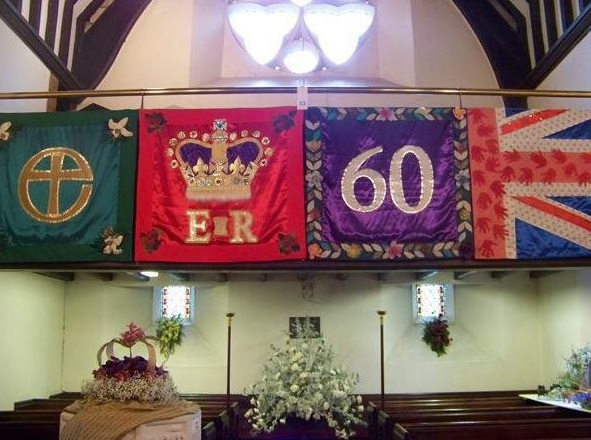 Jubilee banners on display at Fauls Church.