The Marches Academy Trust
The Marches Academy Trust is a multi-academy sponsor based in Shropshire.
We believe we have the capacity and experience to inspire and motivate students and staff and are committed to developing a family of academy schools with a shared set of visions and values.
Converting to an Academy enables us to:
Re-state our aims and redefine our vision for learning in the second decade of the 21st Century
Build on our current strengths as an 'outstanding', high performing comprehensive school and preserve the legacy of our specialisms in Technology, Leading Edge and Training School status
Focus on meeting the needs of all learners in Lower Heath and the surrounding area
Seize the new educational agenda; work collaboratively with others, including the Local Authority, share information and take opportunities to creatively use resources and make decisions that benefit the young people within the schools learning community
Our family of schools currently includes:
Primary
Secondary
Specialist
To find out more about The Marches Academy Trust, including:
Governance
Vision and Values
Latest News
Please visit our website – www.marchesacademytrust.co.uk
This is where our annual reports, audited accounts and memorandum of association are available. The site also details our Trustee information and duties.
The Trust office address is: The Marches Academy Trust, Morda Road, Oswestry, Shropshire, SY112AR
Tel: 01691 664400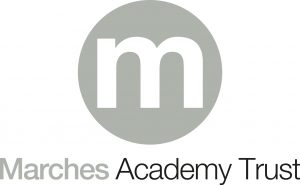 ---
The Marches Academy Trust and Lower Heath CE Primary School Community Plan
The Marches Academy Trust's vison is 'Achievement Through Caring'. We believe that our children are part of our community of learners and as such we work hard to create a sense of belonging and connection in our family of schools. Our staff across the Trust work hard to form effective partnerships within each of our communities; it is this work that makes each school unique as each community has its own character. We have put together examples, seen in the below 2022-2024 Community Plan of how Lower Heath CE Primary School is building a strong foundation in their community that will help the school community to evolve and best serve the children.
The Marches Academy Trust