Our Nursery
Miss Williams encourages and helps us to become confident and happy learners for life.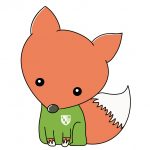 In Nursery we recognise that children learn best through play and fun, hands-on activities.  Our days are scheduled so that each learning session is followed by a chance for the children to apply their learning in different child-led ways.  Each morning consists of a phonics activity, a literacy session around a book or song of the week and a maths session as well.  We learn indoors and outdoors throughout the year and are lucky enough to have a sheltered outside classroom to enable the children to experience outdoor learning in almost all weather.
Please see our EYFS overview here: EYFS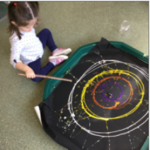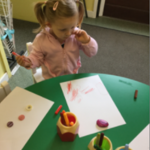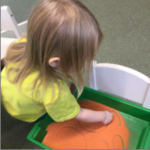 Our afternoon sessions are varied and ensure that the children learn about the wider curriculum. Each week we practise mindfulness and yoga, bake, explore our school Forest School area, learn about famous artists, take part in fun science experiences and enjoy a variety of physical development activities.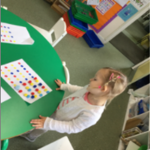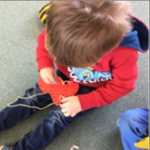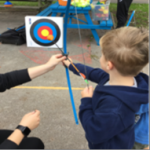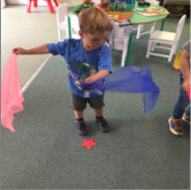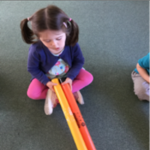 Phonics
In Nursery we have daily phonics sessions based on the Letters and Sounds scheme.  Each session includes songs with interactive actions to make them more memorable and an activity to help the children associate the sound with familiar items.  These sessions are tailored to each child's individual ability therefore ensuring that everyone learns at their own pace.  Reading books linked to these sounds are also available to children and parents who request them.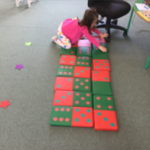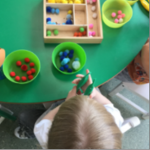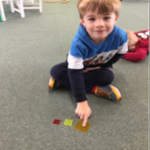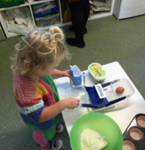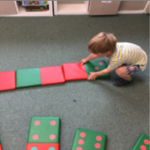 Literacy
Each week we focus our learning on a specific book or song.  The children are given activities to help with their understanding from sequencing the story to enhance their recall, or asked to put on a play using props which they make on our outdoor stage, lists of ingredients from the shops alongside a supermarket based role-play area or simply marks on a piece of paper to help them to celebrate the fact that they are unique.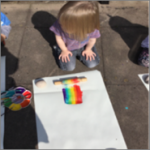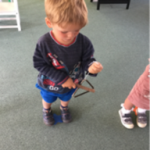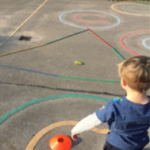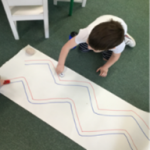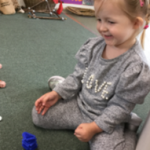 Maths
We try to link these sessions to our focus book or song as well and this gives the children lots of opportunity to explore numbers, shapes, money, time and capacity.  We are lucky to have a large outdoor water table for the children to measure capacity of items and explore linking amounts to numbers.  We also have sand indoors and outdoors for similar items.  The children also use sand in timer form to distinguish 2 and 5 minute intervals when waiting their turn or for counting steps, hops or jumps.  Our baking sessions are designed so that the children learn to independently bake items such as cakes, biscuits, soup, smoothies and more after only a few modelled sessions.  The children are able to weigh ingredients and organise themselves to ensure everything is weighed, chopped or poured safely, in the correct quantities before they take turns stirring and spooning the mixture into oven-safe moulds.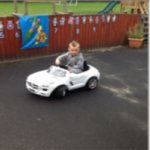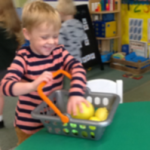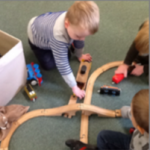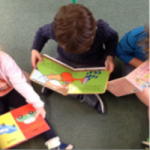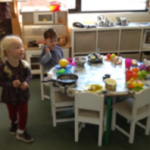 Yoga
The children are given the opportunity to perform yoga at least once a week.  They follow a story and interact using well-known yoga poses.  The sessions start and finish with stretching and breathing exercises.
Wider Curriculum
Each afternoon the children are given the opportunity to explore the wider curriculum with interactive art lessons, practical science experiments and experiences, as well as music and baking activities.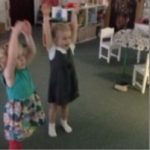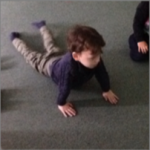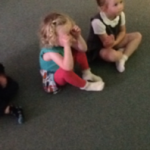 The children are given the opportunity to perform yoga at least once a week.  They follow a story and interact using well-known yoga poses.  The sessions start and finish with stretching and breathing exercises.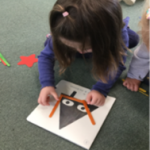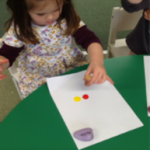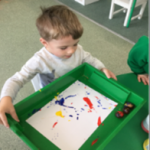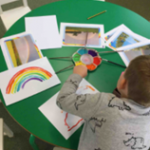 Forest School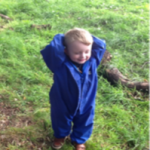 We are fortunate to have a Forest School area on site which the children have access to weekly.
The children learn to dress in appropriate clothing and then explore and look after the wildlife that lives in and around the school.  This term they are learning to maintain the area and are exploring the mud kitchen.
Child Initiated
The children have dedicated learning sessions throughout the day, but learn and express themselves thoroughly through child initiated learning and exploration.  The children have access to role-play, small world, vehicles, sand and water tables, outdoor maths and writing areas, fine motor skill activities such as threading, sewing, play dough and large and small construction toys.  The children are also given the opportunity to read for pleasure throughout the day and are able to take home books to share with their families.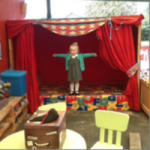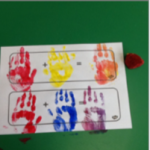 Snack and lunchtime
The children are asked to sit together around the tables to enjoy a healthy fruit snack and glass of milk each morning.  They are also given the opportunity to stay for lunches; either a school hot dinner or a packed lunch from home.  These experiences help the children to interact with each other and helps them to problem solve and discuss ways of opening tricky packets and assisting their peers with small tasks, such as opening a yogurt pot, providing them with independence and a strong sense of civic duty.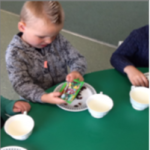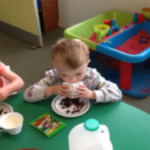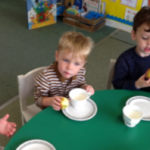 The Wider Community
We are very lucky to have strong links with our local community.  We take trips to Fauls Church for Harvest Festival, Christmas and Easter services as well as learning about Christian values and different religions.  We celebrate a variety of charity events throughout the year as well, such as our sponsored penguin at Chester Zoo and our ongoing support for Macmillian Cancer Support.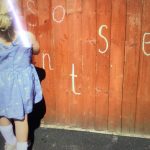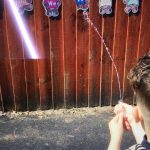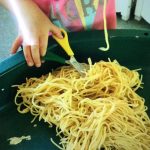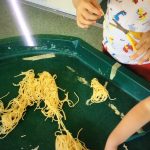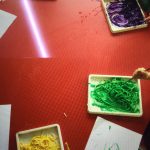 ---
Joining Our School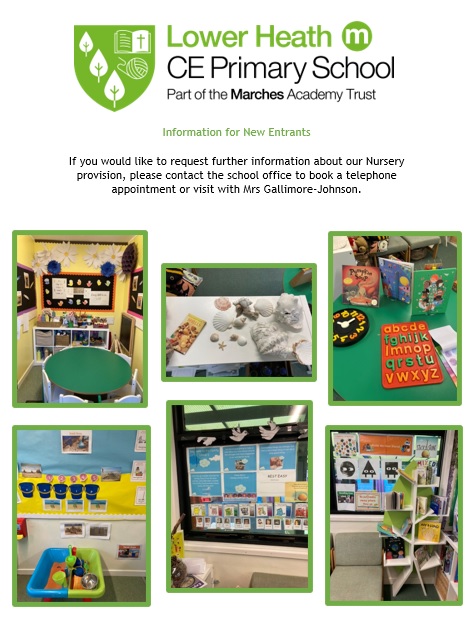 Remembrance 2020