We have received the Rest Easy Gold Award!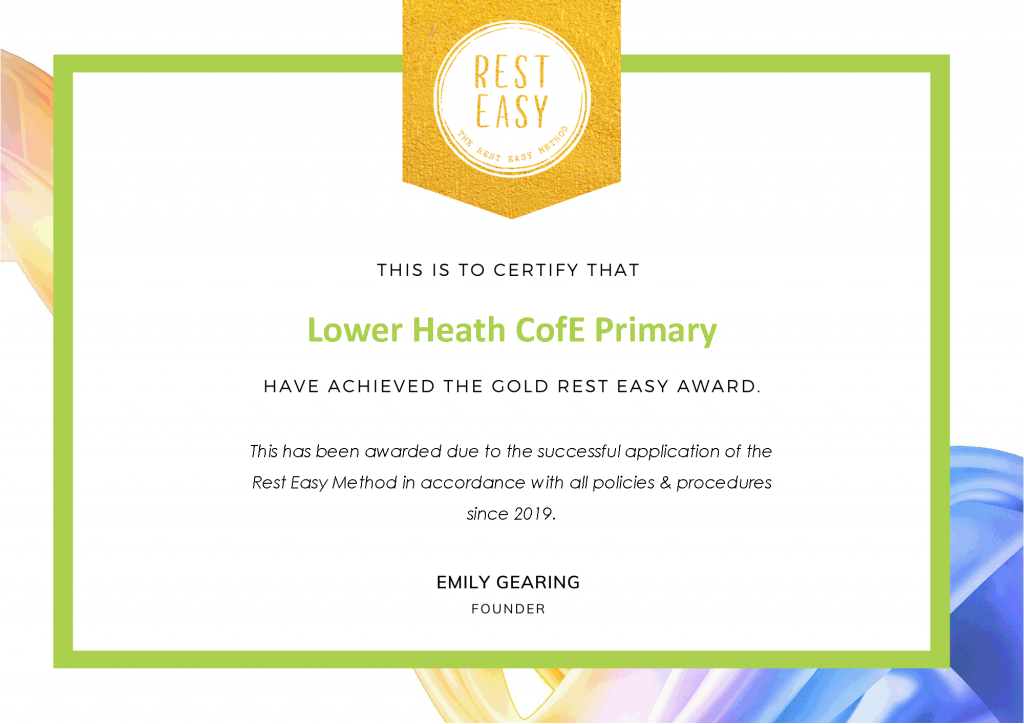 At Lower Heath CE Primary School, we really care about each pupil's mental health and wellbeing. As a school we follow the Rest Easy method, a cohesive mental health initiative designed to help teach children to develop emotional intelligence, resilience, empathy and self-awareness. It combines the principles of DBT (Dialetical Behavioural Therapy), mindfulness, positive psychology and life coaching techniques in a fun and easy methodology. We are delighted to share that we recently achieved the Gold Rest Easy Award, this is due to the successful application of the Rest Easy Method in the following areas since 2019:
Our school has an in-house Rest Easy Practitioner.
School has a team of Rest Easy Peer Ambassadors.
All children have attended a Rest Easy Assembly.
All children have received lessons in the Rest Easy method.
The Rest Easy zone and resources are available for children to access every lunchtime.
All children are given 5 minutes relaxing Rest Easy time after lunch, before lessons.
Staff and pupils are using the Rest Easy language in class and around school.
Regular reviews are organised to ensure the standards are upheld.
Rest Easy has been delivered in school for at least 2 years.
Acting Head of School, Miss Charlotte Williams comments; "Providing a nurturing and supportive environment for all children is really important to us here at Lower Heath, so to receive our Rest Easy Gold Award is a fantastic achievement and one which we're so incredibly proud of as a school."
Posted by marchesadmin on 18th July 2022, under Uncategorised
---
Previous Post:
Proud holders of the School Games Gold Mark!